Watkins Total Healthcare In The News
As a chiropractic/medical integrated practice with Durable Medical Equipment, Watkins Total Healthcare has become fully accredited, as required by Medicare, to continue having the ability to provide our Spine braces, Tens Units, etc.
Click here to view certificate now
---
Dr. Mary Watkins named 2012 Georgia Chiropractor of the year!
ATLANTA - Mary Watkins, D.C., of Gainesville, was named the Georgia Chiropractic Association's Chiropractor of the Year during the association's 100th Annual Fall Conference & Trade Show October 19.
The highest honor bestowed by GCA, Watkins earned the award through her tireless dedication to the association and the profession.
"Mary created an ambassador program at our conferences to make attendees feel welcome, and she spearheaded our membership drive this year, which has resulted in nearly 100 new members," explained Mark Cotney, D.C., last year's recipient of the award.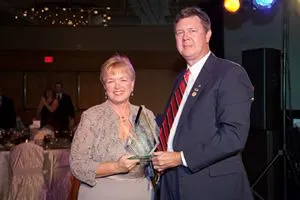 In addition to serving on GCA's board of directors, Watkins was recently appointed to the Georgia Board of Chiropractic Examiners by Gov. Nathan Deal.
"GCA is an important part of my life," Watkins said. Serving GCA is serving chiropractic."
The Georgia Chiropractic Association has been protecting the health and wellness of patients since 1912 by promoting the rights of Georgia doctors of chiropractic to practice within the entire scope of their education and training. For patient health and wellness tips, visit www.findgeorgiachiropractors.com. For more information on GCA, please visit www.gachiro.org.